Viewing 14 of 124 pictures within search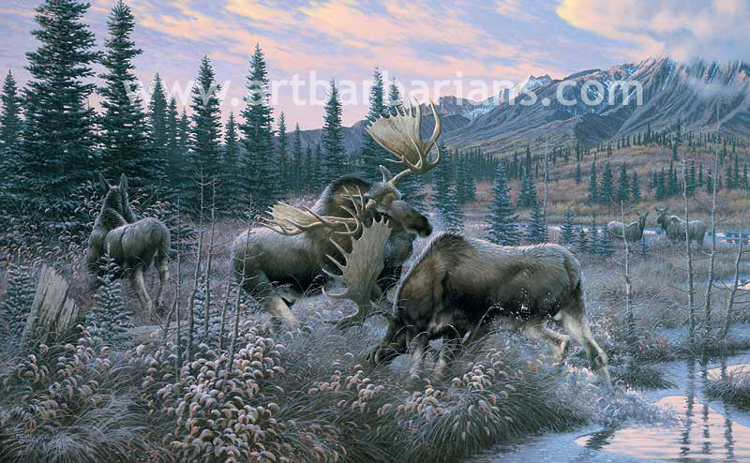 Battling Bulls - Moose By Michael Sieve
Battling Bulls-Moose Art Print by Michael Sieve.
"If antlers are made for impressing females and intimidating other males, moose are the most remarkable of deer species. The antlers of an Alaskan bull can measure 12" at the base, span six feet or more, and weigh up to 90 pounds. That's some serious headgear, especially when it's resting on the head of an animal standing over six feet at the shoulder and weighing up to 1,400 pounds! Bull moose try to avoid full-blown battles. Even when two prime bulls encounter one another, a bad attitude may be enough to make one animal back down. The pair will trot around, flashing antlers, raking brush and groaning a challenge. They may even rip vegetation from the ground with their mouths, jerking their heads up in a boastful swagger. Often, one of the bulls gives up and wanders off. But if their size and belligerence match, the bulls will clash antlers in a furious shoving match. The ensuing fight is among Nature's most awesome displays; the huge bulls digging their feet into the turf and shoving antlers with a power unequaled in the deer family. Eventually one bull tires, turns and runs. The victor may slam its monstrous rack into the loser's body or backside as he leaves; then move proudly toward the cow he's won. His strength and courage have made him king for a day!"
Battling Bulls - Moose by Michael Sieve is available for sale as a Signed and Numbered Limited Edition of only 1,999 paper art prints with a 17 x 27 1/2 Image Size and is for sale for $145 unframed. This Bull Moose painting is also available for sale as a Signed and Numbered Limited Edition of only 199 giclee canvas art prints with a larger 21 x 34 Image Size and is for sale for $395 unframed. The prints are in mint condition and have never been framed. Painting of a Pair of Bull moose fighting in a clearing. Painted by Minnesota Artist Michael Sieve. Custom picture framing and art prints on sale framed any way you want or unframed. Order your print today. All prints are professionally boxed and insured and guaranteed to arrive in mint condition. Minnesota Wildlife Artist Michael Sieve Wildlife in Art Prints for sale.
| Types | Dimensions | Edition Size | Price | Cart |
| --- | --- | --- | --- | --- |
| Signed and Numbered Limited Edition Paper Print | 17 x 27 1/2 Image Size | 1999 | $145.00 | |
| Signed and Numbered Limited Edition Artist Proof Paper Print | 17 x 27 1/2 Image Size | 100 | $145.00 | |
| Signed and Numbered Limited Edition Giclee Canvas Print | 21 x 34 Image Size | 199 | $395.00 | |
First Page | Previous Page | Next Page | Last Page