Viewing 1152 of 1254 pictures within search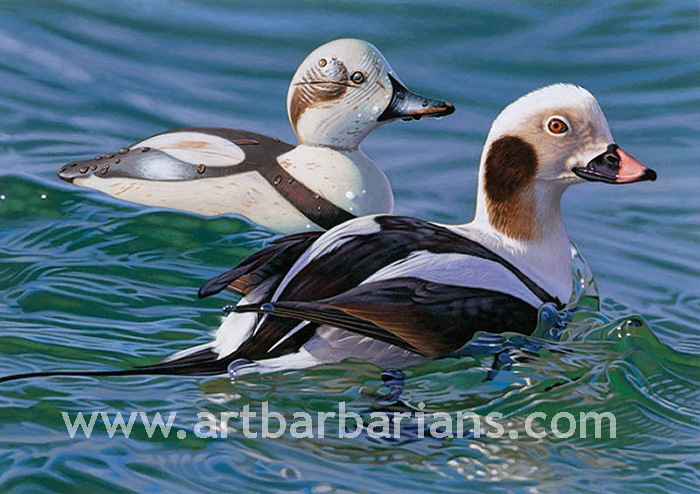 Z 2009 - 2010 Federal Duck Stamp Print By Joshua Spies
2009 - 2010 Federal Duck Stamp Print and Stamp of an Oldsquaw by Joshua Spies.
Winning the Federal Duck Stamp Contest is one of the most coveted honors a wildlife artist can hope to achieve. Add to that the creation of the first-ever Fine Art Giclée Canvas of a Duck Stamp Print, and Joshua Spies has doubly made his mark in Duck Stamp History. Spies competed against 270 entrants in the 2008 contest that determines which image would adorn the 2009-2010 Federal Migratory Bird Hunting and Conservation Stamp. The program has been in place since 1934, when it was determined the stamp itself would act as the federal license for hunting migratory waterfowl. Since then this license evolved into a fund that has generated over $700 million to purchase or lease over 5.2 million acres of waterfowl habitat in the United States.
This inaugural release of a canvas edition of the Duck Stamp Print adds yet another legacy to the auspicious program which has helped to popularize the collecting of prints in the United States. The canvas edition is accompanied by two Federal Duck stamps, one in mint condition, the other signed by the artist Joshua Spies.
Formerly known as Old-squaw, the Long-tailed Duck breeds in the Arctic and winters along both coasts of North America. ... The Long-tailed Duck is one of the deepest diving ducks, and can dive as deep as 200 feet to forage.
2009 - 2010 Federal Duck Stamp Print by Joshua Spies is available for sale as a signed and numbered limited edition of only 10,500 paper art prints with a 9 x 6-1/2 image size priced at $185 unframed. Wildlife Artist Joshua Spies duck stamps and art prints on sale framed any way you want or unframed. Order your print stamp combo today. All artwork is professionally boxed and insured and guaranteed to arrive in mint condition. Wildlife Artist Joshua Spies Federal Duck Stamps and Prints and Old Squaw Ducks in Art Prints for sale. All prints have been hand signed by the artist.
| Types | Dimensions | Edition Size | Price | Cart |
| --- | --- | --- | --- | --- |
| Signed And Numbered Giclee Canvas Limited Edition ( Canvas is accompanied by two stamps: one signed, one unsigned ) | 10 x 7 Image Size | 500 | $375.00 | |
| Signed And Numbered Limited Collector's Edition | 9 x 6-1/2 Image Size | 10500 | Please Inquire | Click to Inquire |
| Signed And Numbered Artist Proof Collector's Edition | 9 x 6-1/2 Image Size | 650 | $205.00 | |
| Signed And Numbered Medallion Edition ( Includes Gold-Plated Bronze Medallion ) | 9 x 6-1/2 Image Size | 2000 | $325.00 | |
| Signed And Numbered Artist Proof Medallion Edition ( Includes Gold-Plated Bronze Medallion ) | 9 x 6-1/2 Image Size | 200 | $355.00 | |
| Signed And Numbered Executive Edition ( Includes Pencil Remarque and Gold-Plated Bronze Medallion ) | 9 x 6-1/2 Image Size | 300 | $975.00 | |
| Artist Proof Executive Edition ( Includes Pencil Remarque and Gold-Plated Bronze Medallion ) | 9 x 6-1/2 Image Size | 50 | $1,075.00 | |
| Signed And Numbered President's Edition ( Includes Color Remarque and Gold & Silver-Plated Bronze Medallion ) | 9 x 6-1/2 Image Size | 300 | $1,195.00 | |
| Signed And Numbered Artist Proof President's Edition ( Includes Color Remarque and Gold & Silver-Plated Bronze Medallion ) | 9 x 6-1/2 Image Size | 50 | $1,275.00 | |
First Page | Previous Page | Next Page | Last Page