Daniel Smith Art Prints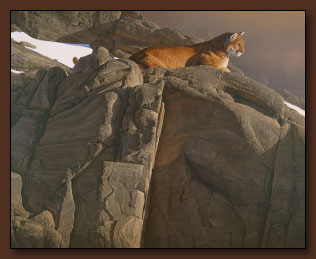 There are a lot of artists who capture still life really well, and then there are others that capture the moment in the wild like no other. One of those artists is Daniel Smith. You get a sense of the majesty of life in how his prints are arranged with the subject matter having a true, strong feel. It's all about how wildlife interacts with its natural environment and that's captured in these wonderful prints and paintings. Daniel Smith art prints are probably some of the best examples of this ability to understand that tension between life and environment. Like most people you probably can identify with nature with most of the artists like Daniel we feature here on our web site. We have a couple of examples of this artist's work. You get a sense of the life, the way an animal lives in it's pristine state.
Daniel Smith is one of America's foremost nature artists, enjoys wide acclaim for his spectacular depictions of landscapes and wildlife. Smith lives in the mountains of southwest Montana where artistic inspiration surrounds him. He has been painting full time for over twenty years and has had more than 100 of his paintings reproduced as limited edition prints. He began his career designing conservation stamps. He has designed more than thirty stamps including the 1988-89 Federal Duck Stamp and was recently selected as Ducks Unlimited International Artist of the Year for the second time. The detail and scientific accuracy of Smith's art caught the eyes of organizations such as the National Geographic Society, who commissioned him to paint five color plates for The Field Guide to the Birds of North America, and the prestigious "Birds in Art" exhibition sponsored by the Leigh Yawkey Woodson Art Museum. In 1996 he was inducted into the U.S. ART Hall of Fame due to his great popularity among print collectors. Smith travels frequently to research his subjects in their natural habitat, believing that there is no substitute for personal experience in the field. He says of his work, "I want people to experience the peace, the tranquillity of the wilderness, of being the only one out there, communing with nature." An ardent supporter of wildlife conservation, he feels indebted to the natural world that has provided him with the sole inspiration for his award-winning career.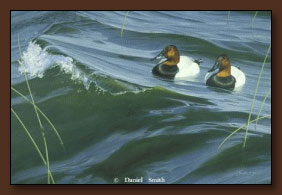 You may want to browse our wildlife prints and you'll find that our selection of paintings is one of the deepest on the Internet, with many artists listed here. We're adding new paintings and prints everyday, after that you may want to move onto our original paintings area which will give you an idea of the depth of the art we carry. It's exciting to be a part of an offering which brings people such a sense of satisfaction and joy. The colors, the depth, the natural settings, all of this makes this art we care about so special. We have many personal relationships with many of these artists that we exhibit and sell, and they trust us to portray their art in a correct manner. Those relationships give us the advantage of getting you some of the best new art first, so you can add to your collection before what you want is gone.
Call us if you have any questions about anything you see on our web site or need to know more about Daniel Smith art prints. We're happy to answer your questions personally regarding availability or something special you're looking for.