First Picture | Previous Picture | Next Picture | Last Picture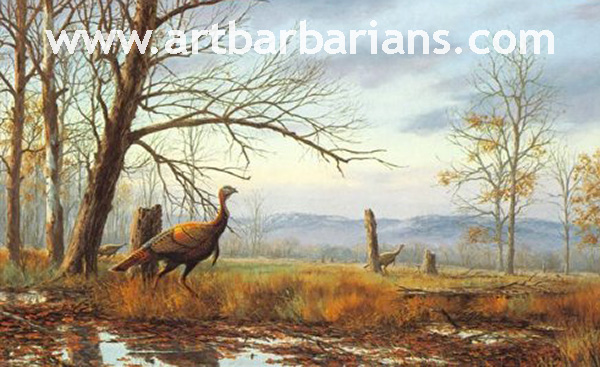 Cautious Trio - Wild Turkeys By David Maass
By David Maass
Cautious Trio - Wild Turkeys painted by wildlife artist David Maass.
A big Game Bird art print with three tom turkeys working there way out on the fields. Adult wild turkeys have long reddish-yellow to grayish-green legs. The body feathers are generally blackish and dark brown overall with a coppery sheen that becomes more complex in adult males. Adult males, called toms or gobblers, have a large, featherless, reddish head, red throat, and red wattles on the throat and neck. The head has fleshy growths called caruncles. Juvenile males are called jakes, the difference between an adult male and a juvenile is that the Jake has a very short beard and his tail fan has longer feathers in the middle. The adult male's tail fan will be all the same length. When males are excited, a fleshy flap on the bill expands, and this, the wattles and the bare skin of the head and neck all become engorged with blood, almost concealing the eyes and bill. The long fleshy object over a male's beak is called a snood. When a male turkey is excited, its head turns blue; when ready to fight, it turns red. Each foot has three toes in front, with a shorter, rear-facing toe in back; males have a spur behind each of their lower legs.
Male turkeys have a long, dark, fan-shaped tail and glossy bronze wings. As with many other species of the Galliformes, turkeys exhibit strong sexual dimorphism. The male is substantially larger than the female, and his feathers have areas of red, purple, green, copper, bronze, and gold iridescence. Females, called hens, have feathers that are duller overall, in shades of brown and gray. Parasites can dull coloration of both sexes; in males, coloration may serve as a signal of health The primary wing feathers have white bars. Turkeys have 5000 to 6000 feathers. Tail feathers are of the same length in adults, different lengths in juveniles. Males typically have a "beard", a tuft of coarse hair (modified feathers) growing from the center of the breast. Beards average 9.1 inches in length. In some populations, 10 to 20 percent of females have a beard, usually shorter and thinner than that of the male.
Cautious Trio - Wild Turkeys by David Maass is available for sale as a Signed And Numbered Limited Edition Print with a 16-1/2 x 25 Image Size and is for sale for $sold out unframed. Painting of a small flock of wild Turkey enetering a clearing under a cloud covered sky painted by Wildlife Artist David Maass. We have a lot of other great wild turkey paintings on our website. All paintings and prints are professionally boxed and insured and guaranteed to arrive in mint condition. Minnesota Wildlife Artist David Maass painted some Wild Turkey and Big Game Birds in Art Prints for sale.
| Types | Dimensions | Edition Size | Price | Cart |
| --- | --- | --- | --- | --- |
| Signed And Numbered Limited Edition Print | 16-1/2 x 25 Image Size | 850 | Please Inquire | Click to Inquire |
To Order Call:
763-494-8888