First Picture | Previous Picture | Next Picture | Last Picture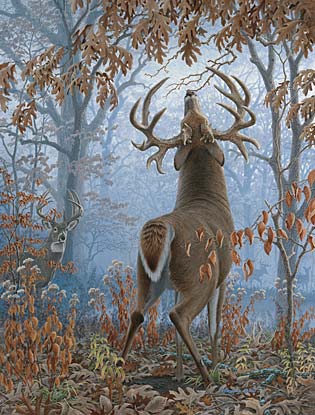 Big Timber Bucks - Whitetail Deer By Larry Zach
By Larry Zach
Big Timber Bucks - Whitetail Deer by Larry Zach
The first print in Zach's Big Buck Series, Big City Bucks, featured deer living in Des Moines, Iowa. Now Zach has released the second print in the series, Big Timber Bucks. This print features three bucks that lived in a more typical setting — the heavy timber of southeast Iowa. Larry and his two children were lucky enough to harvest all three bucks with within a couple miles of each other during the hunting seasons of 1999 and 2000.
On November 5, 1999, Larry and his 17 year-old son, Chris were in a shingle oak overlooking a secluded clover patch on their southeast Iowa farm. That morning Chris filled his antlerless tag with a mature doe. Evening found them in the same tree, Larry with video camera, Chris with bow and arrow and a statewide archery tag to fill. Another doe came in to feed, this time followed by a mature, 5˝ year-old buck! Slowly the pair fed into the clover patch and into a shooting lane. Chris made an excellent shot when the big non-typical finally turned broadside at 25 yards. Chris' excitement and pride was surpassed only by his dad's.
October 18, 2000, Larry was in the same tree, this time with his 14 year-old daughter April. It was early muzzleloader season and one of only two evenings they would be able to hunt that season.
A little after sunset a beautiful non-typical moved into the clover patch to feed as Larry again captured the action on video. After several tense minutes of waiting for the right angle, April made a great shot and harvested her first buck which grossed 171 4/8 and netted 161 4/8.
Each year Larry spends a great deal of time studying wildlife and much of that time is spent with whitetail deer. During the summer of 2000 one of the bucks Larry captured on tape was an enormous non-typical. Later, while studying old tapes, he realized he had captured the same buck in the same field in October 1999. The most amazing thing was that the buck had gone from a 170+ non-typical to a 240+ non-typical in one year! This growth can be seen in clips from the 1999 and 2000 video at www.zachwildlifeart.com.
On October 26, Larry was lucky enough to harvest the huge buck. Larry's big non-typical netted 237 3/8 with 51 2/8 inches of non-typical points. Its 10-point typical frame grossed 188 0/8 and netted 186 1/8. Unfortunately, it had already lost a 5-6 inch non-typical tine.
Records are made to be broken and that certainly has been the case with the number one, Pope & Young, non-typical in Iowa. In 1993, the buck in the background of Zach's Old Rivals II, the Hobart buck (229 5/8 P&Y), took state record status. In 1994, the Clarken buck (231 7/8 P&Y) in the foreground of Old Rivals III became the new number one. Seven years later, on October 26, 2001, Larry shot his prize buck (237 3/8 P&Y). Its time atop the standings was short-lived, however A few days later, on November 3, 2000, Dave Gordon shot a new record (240 4/8 P&Y), yet again surpassing the record.
Many magazine articles have been written describing Larry's hunt, and they, along with articles about Larry's artwork, can be found for reading at www.zachwildlifeart.com. The buck and the original painting are usually on display at Zach Wildlife Art Gallery in Ankeny.
Harvesting does is an important part of maintaining a balanced and healthy herd. Like the rest of the family, Larry's wife, Marcia, has taken several does over the years. Putting a doe in the background of the painting adds to the story and gives everyone in the Zach family a deer in Big Timber Bucks.
A set of massive, non-typical, sheds were found by a turkey hunter in southeast Iowa in April of 2001. One of the sheds can be found in the background of Big Timber Bucks and gives a clue to the main subject of the upcoming third and final print in Zach's Big Buck Series, Big Country Bucks.
Big Timber Bucks - Whitetail Deer by Larry Zach is available for sale as a signed and numbered limited edition print with a 21-1/2 x 16-1/4 vertical image size priced at $145 unframed.
Canvas - Big Timber Bucks – Whitetail Deer by Larry Zach is also available for sale as a signed and numbered limited edition giclee canvas with a larger 30 x 20 vertical image size priced at $425 unframed.
Order yours today. All artwork is professionally boxed and insured and guaranteed to arrive in mint condition. All artwork has been hand signed by the artist.
If your interested in framing please send us an email to discuss the options. If you type the name FRAME on the search box above you can browse through some examples of our materials and designs. Mature whitetail bucks in rut in high quality art prints and giclee canvas for sale.
| Types | Dimensions | Edition Size | Price | Cart |
| --- | --- | --- | --- | --- |
| Signed And Numbered Limited Edition Print | 21-1/2 x 16-1/4 Image Size | 2395 | $145.00 | |
| Signed And Numbered Limited Edition Giclee Canvas | 30 x 20 Image Size | 100 | $425.00 | |
To Order Call:
763-494-8888