First Picture | Previous Picture | Next Picture | Last Picture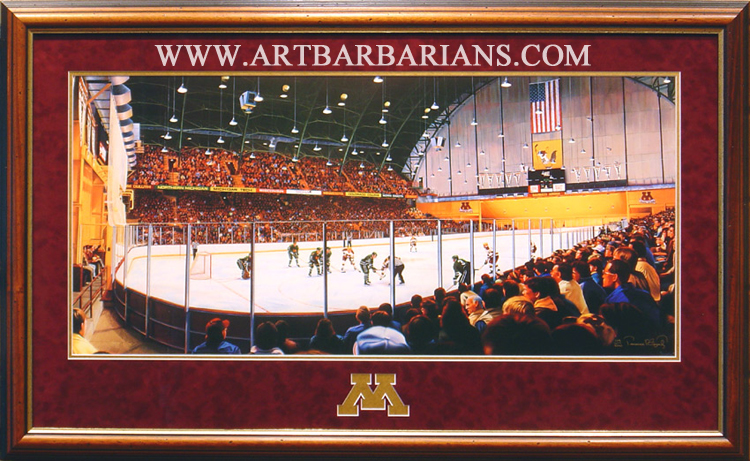 Zfr Mariucci Arena By Terrence Fogarty - Framed 2
By Terrence Fogarty
An example of framing done for a client.
This was the first panoramic sports venue I painted. When I finished this piece back in 1989, I had no idea that the print would spawn a series of prints on U of M sports stadiums and arenas. These prints have proven to be very collectible over the years and occasionally sell for thousands of dollars on the secondary market. Most people who own them however, will never sell them.
I shot my photo reference for this piece at several games and got chewed out by the ushers as I stood on ledges and seats looking for a proper view. I made sure to include several important aspects of the old arena including Goldy on his perch, a tribute to the "NE" section and of course a visage of the late John Mariucci himself in the crowd.
Mariucci Arena was hockey's version of Fenway Park with all of those quirky angles and other oddities. It was great subject matter for a painting and I was happy to bring my own personal view of the old place to canvas. This was probably one of the first panoramic paintings of any Minnesota sports scene ever produced in a limited edition print format ~ Terry Fogarty
To Order Call:
763-494-8888