First Picture | Previous Picture | Next Picture | Last Picture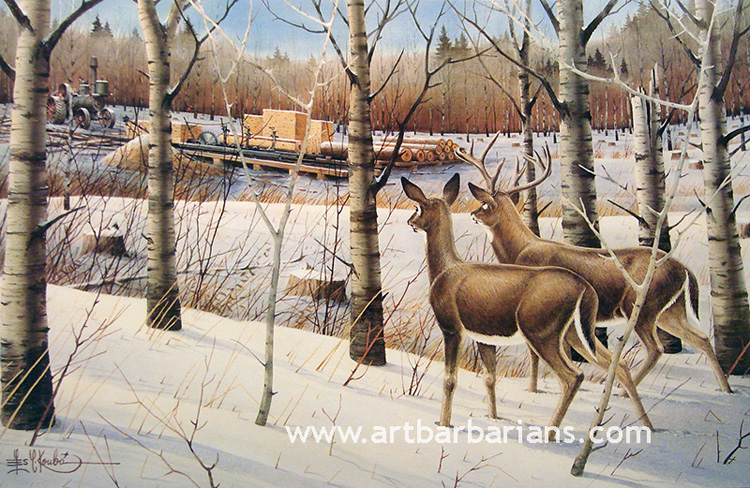 Out At The Old Saw Rig - Whitetail Deer By Les Kouba
By Les C. Kouba
Out at the Old Saw Rig painted by two time Federal Duck stamp winner Leslie C. Kouba
This is the third print in the American classic series. A slug hunter moves in the background behind the old saw rig while a whitetail buck and his doe watch motionless.
In northern Minnesota early in this century, and soon after the era of the timber barons, there arose an economy and way of life centered around family owned saw rigs.
The saw rig in the paintings was originally set up by Andrew and Louise Comstock and was eventually operated by their sons, Clifford and Robert, and son in-law, Oscar Erickson. A full crew included the engineer, fireman, "water monkey," head sawyer, tail sawyer, carriage man, skidway man, edger, planer, resawyer, "slab monkeys," men to bring logs to the mill, men to stack and load lumber, and others. Local farmers and itinerants filled these positions.
Three meals a day were served in a log cook shack beginning at 6:30 with a breakfast of "sow-belly," eggs, and pancakes. The head cook made certain that meals were served on time, and the "bull cook" peeled the potatoes, washed dishes, and cleaned up.
The logging operation lasted throughout the bitterly cold winter, and since no thermometers were allowed in camp, it was never too cold to work. On payday the boss simply reached in his pocket and gave each man about $30 for the month, depending on his job.
Among the more interesting contracts of the Comstock mill was the supplying and delivery of ties to the Canadian National Railroad at Roosevelt some 30 miles from camp. The Comstock Mill also supplied sawed oak for the "Scout," the largest boat at the time on Lake of the Woods.
The saw rig in this painting exists as authentically today as when it was in operation south of Roseau and Roosevelt Minnesota from the early 1900's until the late 1950's. Early in August you can still hear the whir of the rig and smell the steam and hot cylinder oil of the engine when grandsons Duane, Jack, Blaine, and others operate the mill during the Lake of the Woods Steam and Gas Association celebration north of Roosevelt at the Carlos Grove farm and museum.
In Northern Minnesota during deer season, hunting takes precedence over all else, as evidenced in Kouba's painting by the shut down rig and the hunter's red cap in the background. The deer are alert and also seem concerned about the invasion of the monstrous advance steamer and the saw rig in their neck of the woods.
Out at the Old Saw Rig by Les Kouba is available for sale as a signed and numbered limited edition print priced at $350 unframed. VERY LOW SUPPLY!
We also have a couple of the prints that never got signed or numbered priced at $90 unframed. LOW SUPPLY!
This is a true classic painted by Wildlife Artist Les C Kouba. Deer Hunting Art for sale
| Types | Dimensions | Edition Size | Price | Cart |
| --- | --- | --- | --- | --- |
| Unsigned - Edition Print | 15 x 23 Image Size | Open Edition | $90.00 | |
| Signed And Numbered Limited Edition Print | 15 x 23 Image Size | 2000 | $300.00 | |
To Order Call:
763-494-8888