First Picture | Previous Picture | Next Picture | Last Picture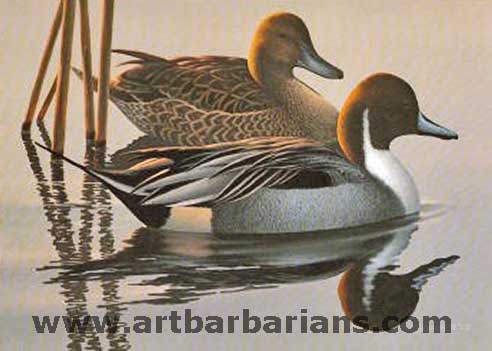 Zz Stamp 1983 - 1984 Federal Duck Stamp Print - Northern Pintails By Phil Scholer
By Federal Duck Stamps and Prints
1983 - 1984 Federal Duck Stamp and Print on northern pintails painted by wildlife artist Phil Scholer.
The artist likes to go hunting along the banks of the Mississippi. His equipment usually consists not of a gun, but rather a variety of lenses and filters. He does not object to those that do hunt, but he finds that his method allows the best opportunity to study nature closely and with careful thought. Consequently, photography has been his hobby for years.
Mr. Scholer's parents were academically inclined and created a family atmosphere that stressed education. All the Scholer children were raised in Rochester, Minnesota where Phil Scholer was born on July 7, 1951. The entire family had a passion for camping and preferred a tent in the woods to a Winnebago in a public campsite. They packed their gear and headed into the untamed country where they cooked over an open fire, lived off the land, and slept under the stars on many weekends throughout the year. Mr. Scholer began to gain a love for nature and learned firsthand about the wild "critters" on these family trips.
He enrolled in the Mankato State University College of Fine Arts after he graduated from John Marshall High School in Rochester. He graduated from college summa cum laude, but was not an advocate of "all work and no play while at Mankato. While he was there he took an active interest in a young, pretty coed named Sheryl Davids. Shortly after Mr. Scholer received his Bachelor of Fine arts degree, they exchanged marriage vows.
In 1981 his Whistling Swans won the Nevada Duck Stamp competition. The following year his Redhead Ducks won in the Minnesota Duck Stamp competition. He won the federal Duck Stamp contest just as he was on the verge of free-lancing full time.
Mr. Scholer has not always painted wildlife, however. During his college years and for some time afterward, landscapes and portraits were his specialty. He was much impressed one day when he saw a David Maass painting in which Maass had skillfully incorporated birds into his landscape. Mr. Scholer's career in wildlife art began to take form.
His design for the 1983-84 Duck Stamp was an acrylic painting on hardboard and depicted a pair of Pintails on water in front of weeds at twilight. Mr. Scholer says, "I chose Pintails because I like them and thought they'd be competitive. My aim was to produce a real looking painting."
Those who know Mr. Scholer say the work reflects his personality. Like his art, the man is very quiet, gentle, and serene. The deliberate, uncomplicated man can be seen in this clear simplicity of his painting. It's a simple case of "What you see is what you get."
Mr. Scholer recently tried trap shooting and plans to pursue it as a sport. He plays golf well enough to carry a ten handicap.
Pintails was hand signed and numbered in pencil. The edition was 17,400 regular signed and numbered prints and 6700 with 24 caret gold plated medallion for a special 50th stamp commemoration. The The image size is 6-1/2" x 9". The medallion is full struck 3/32" x 1-5/16" and comes with two stamps the medallion and a print for sale. Pintails…Engraved by the Federal Bureau of Engraving from the original artwork. Printed in full color. The stamp sold for seven dollars and fifty cents. Postal records show 1,867,998 stamps sold. First day of sale was July 1, 1983. Acrylic painting of a pair of Pintail Ducks (now known as Northern Pintails) on water by Phil V. Scholer, Mr. Scholer is a freelance wildlife artist. Edition Sizes: 1st: 17,400 Regular; 6,700 with companion piece Artist's Proofs: 1,500 Regular, 200 with companion piece
| Types | Dimensions | Edition Size | Price | Cart |
| --- | --- | --- | --- | --- |
| Signed and Numbered Limited Collector Edition Paper Print and Stamp | 6-1/2 x 9 Image Size | 17400 | Please Inquire | Click to Inquire |
| Signed and Numbered Limited Medallion Edition Paper Print and Stamp | 6-1/2 x 9 Image Size | 6700 | Please Inquire | Click to Inquire |
To Order Call:
763-494-8888