First Picture | Previous Picture | Next Picture | Last Picture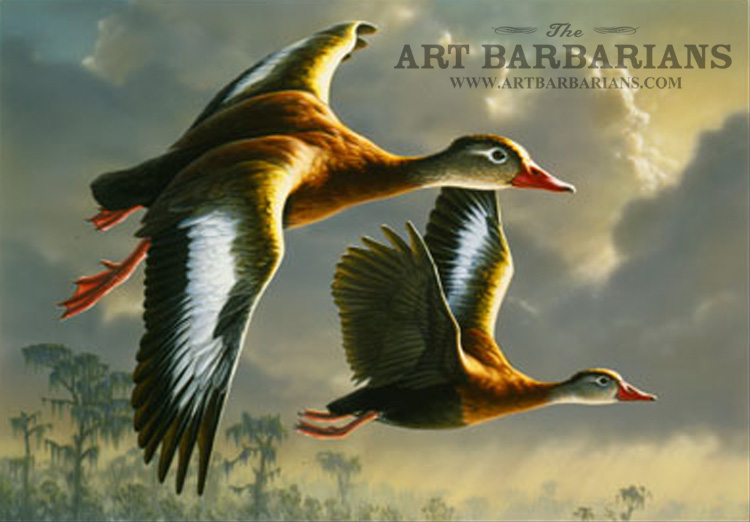 Zz Stamp 1990 - 1991 Federal Duck Stamp Print - Black Bellied Whistling Ducks By James Hautman
By Federal Duck Stamps and Prints
1990-1991 Federal Duck Stamp Print - Black Bellied Whistling Ducks by James Hautman.
Creation of the duck stamp The Federal Duck Stamp was the creation of Jay Darling, a two-time Pulitzer Prize winning newspaper cartoonist, hunter and wildlife conservationist who published biting cartoons depicting the destruction of waterfowl and habitat. President Franklin Roosevelt appointed Darling as chief of the Bureau of Biological Survey (a predecessor to the Fish and Wildlife Service) in 1934. Darling was aware of the 1929 passage of the Migratory Bird Conservation Act, which authorized the Department of the Interior to acquire wetlands and preserve them as waterfowl habitat, but the law provided no permanent source of money. Darling's idea was to require all waterfowl hunters 16 and older to purchase a stamp that would generate funds to acquire and preserve habitat. Congress passed the Migratory Bird Hunting Stamp Act and it became known as the Duck Stamp Act. Darling designed the first stamp at Roosevelt's request, and 635,000 hunters paid $1 each. Over 75 years, Federal Duck Stamp sales have generated $760 million to purchase or lease 5.2 million acres of waterfowl habitat, which are under protection in the National Wildlife Refuge System. Ninety-eight cents of every duck stamp dollar goes to such purchases and leases, and last year 1.5 million hunters paid $15 each for a stamp. "The Federal Duck Stamp program is one of the most successful conservation efforts ever devised," says the 2000 book, The Duck Stamp Story. "It is a true national treasure." Nine million stamps have been sold in Minnesota, helping to acquire 13 national wildlife refuges and eight wetland management districts totaling nearly 500,000 acres. Wetland management districts in the state include nearly 900 waterfowl production areas – small wetlands and associated grasslands – that are essential to the survival of waterfowl, grassland birds and other wildlife. To read more about the Federal Duck Stamp program, see www.fws.gov/duckstamps. Contest grows in popularity After Darling's first design, noted wildlife artists were asked to submit designs until 1949, when the first contest was held. Fifteen Minnesota artists (see list below) have won 24 contests – far more than any other state. The Hautman brothers, called a "dynasty" by the Washington Post, have dominated the contest with eight winning designs over the last two decades. Joe Hautman started out to be a physicist, not an artist. He earned a bachelor's degree from the University of Minnesota and a master's degree and doctorate from the University of Michigan. He did postdoctoral research, first at Minnesota and then at the University of Pennsylvania, and began to paint wildlife art on the side. By that time, his brothers Jim and Bob were establishing themselves as artists. "They kept telling me that I should enter the Federal Duck Stamp contest," Joe said. "They had seen my work and thought I wasn't doing enough with it." In 1992, on his fourth try with only the fifth duck painting he had ever done, Hautman won the contest with a painting of a spectacled eider. He moved back to Minnesota to become a full-time artist. He since has won the 2002 and 2008 federal contests as well as 10 contests or commissions for state conservation stamps in Minnesota, Connecticut, New Jersey, South Carolina and Texas. Minnesota's Federal Duck Stamp Artists: 2011Jim Hautman 2008 Joe Hautman 2004 Scot Storm 2002 Joe Hautman 2001 Bob Hautman 1999 Jim Hautman 1997 Bob Hautman 1995 Jim Hautman 1993 Bruce Miller 1992 Joe Hautman 1990 Jim Hautman 1988 Dan Smith 1983 Phil Scholer 1982 David Maass 1980 Richard Plasschaert 1974 David Maass 1972 Arthur Cook 1967 Les Kouba 1962 Edward A. Morris 1961 Edward A. Morris 1958 Les Kouba 1954 Harvey Sandstrom 1949 Roger Preuss 1940 Francis Lee Jaques
1990 - 1991 Federal Duck Stamp Print - Black Bellied Whistling Ducks by James Hautman is available for sale as a Signed and Numbered Limited Edition of only xxx Signed and Numbered prints and only 200 Signed and Numbered paper artist proof art prints with a 6-1/2 x 9 Image Size and is for sale for $185 unframed. The prints and stamps are in mint condition and have never been framed and include original print folder. These stamps and prints can be ordered unframed or framed any way you want. We are a full service custom picture frame shop and can build a design to meet any style or budget. If you want they can be framed to match your existing collection. If you want us to match any framing please email us some photos. Order your print today. All prints are professionally boxed and insured and guaranteed to arrive in mint condition. In this winning design the artist painted a pair of Black Bellied Whistling Ducks in flight.
| Types | Dimensions | Edition Size | Price | Cart |
| --- | --- | --- | --- | --- |
| Signed and Numbered Limited Collector Edition Artist Proof Paper Print and Stamp | 6 1/2 x 9 Image Size | | $185.00 | |
| Signed and Numbered Limited Artist Proof Medallion Edition Paper Print and Stamp | 6 1/2 x 9 Image Size | | $375.00 | |
| Signed and Numbered Limited Artist Proof Executive Edition Paper Print and Stamp | 6 1/2 x 9 Image Size | | $995.00 | |
| Mint Stamp | Perforated Stamp | stamp | $20.00 | |
To Order Call:
763-494-8888