Viewing 16 of 21 pictures within search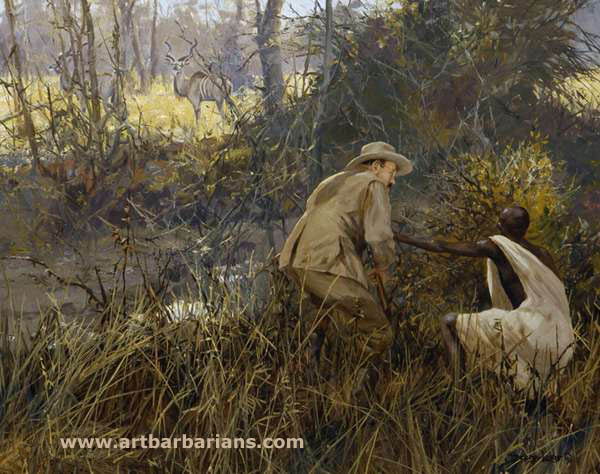 Kudu, Kudu! - Hunters By John Seerey - Lester
Kudu, Kudu! A limited edition African wildlife canvas art print for sale By African wildlife artist John Seerey-Lester
"If one is to believe that Hemingway's book "The Green Hills of Africa" is based on actual events, and there is no reason one shouldn't, then bagging a Kudu had become an obsession for the author on his first trip to Africa in December 1933."
"This "ghost of the bush" has been an illusive trophy for many hunters. Indeed, I have only sighted one in thirty years of extensive travel in Africa. So when I read the author's intriguing account of his mission to find Kudu, I could sympathize with his frustration and perseverance in his quest. His ultimate encounter in the penultimate paragraph of his book inspired my painting."
"As the narrative goes, it was early evening when the writer and his fictional followers headed out from camp, acting on a hot tip through the bush telegraph, for their destined encounter with Greater Kudu."
"Their guide was a native East African, possibly Masai or Somali, but described as Romanesque, who obviously impressed and intrigued the author. Wearing nothing but a toga of white muslin, the classic featured native led the party through the wet and muddy terrain. Exhausted and soaked to the waist, Hemingway describes finally coming upon the Kudu."
"The guide pulls him back and pushes him down while pointing across a stream to the gray, white striped trophy on the far bank. He motions the hunter to wait. It's this moment in the famous story, which I have chosen to paint. Hemingway, Springfield in hand, readies himself to take aim at the animal, which is now standing broadside. Trying desperately not to spook the bull as he gets into a good position and carefully sights the animal. The author claims to have had a good shot just below the top of the shoulder as he squeezed the trigger. He apparently knew he had hit the animal, despite it taking off; now he and his followers are running in leaps and bounds to follow the tracks and blood trail, which they loose and pick up again. Eventually some 100 yards ahead in a clearing they see the magnificent animal looking back at them over its shoulder, seemingly unhurt. The hunter gathers his breath, and this time taking more care, squeezes off a shot. Now the Kudu goes down. As the hunters move in to claim their trophy, Hemingway describes tripping over another down. There had been two, and he had bagged them both."
"In my painting the two Kudu are in view, but the young Ernest Hemingway may only be able to see one. Hence the title: "Kudu, Kudu"." ~ John Seerey-Lester
Kudu, Kudu! - Hunters By John Seerey-Lester is available for sale as a signed and numbered limited edition art giclee canvas with a 16 x 20 image size priced at $775 unframed.
Order yours today. All artwork is professionally boxed and insured and guaranteed to arrive in mint condition. All prints have been hand signed by the artist. A big game hunter named Ernest Hemingway and his African guide near a greater Kudu in this high quality hunting giclee canvas art prints for sale.
| Types | Dimensions | Edition Size | Price | Cart |
| --- | --- | --- | --- | --- |
| Signed And Numbered Limited Edition Giclee Canvas | 16 x 20 Image Size | 100 | $775.00 | |