Paul Henning Hockey Prints
The rich tradition of Minnesota Gopher hockey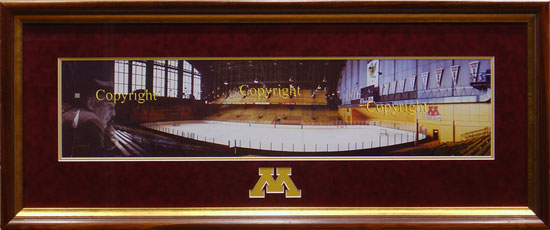 If you're Minnesota Gopher hockey fan or you know someone who is, you know how important the sport of hockey is to our State. It's our baby and probably born from the extended winters we have here. We like to have fun and competition even in the harshest winters and that's reflected in our great hockey tradition. Although wildlife art is our specialty, there's another genre which we take a lot of pride in carrying, the sports artist. Paul Henning hockey prints capture the tradition of our sport with the great University teams of the past and the Olympics. This artist brings out those feelings of bygone days that we treasure so much and we feature here on our web site. You get a sense of perspective in his art and a feeling of being in the arena with it's incredible tradition. Paul Henning hockey prints are famous to Minnesota sports as "Reflection".
Here's some of the history of the artist:
After watching the skill and determination of the 1980 Olympic hockey team Paul Henning went to his first Gopher hockey game in the fall of 1980. Not only was this his first Gopher game, but it was the first hockey game he ever saw in person. He's been going to Gopher hockey games now for over 25 years. He's been there for the highs and lows of Gopher hockey. He was in Lake Placid in 1988 when Robb Stauber won the Hobey Baker Award. He was in St. Paul in 1989 for the heartbreak of a puck going off the pipe and loosing a National title. He was in St. Paul, MN in 2002 and in Buffalo, NY in 2003 for the pandemonium of winning back to back National titles. In 2003 Paul created the web site Gopher Hockey History, www.gopherhockeyhistory.com
You may want to browse our sport prints and you'll find that our selection of paintings is one of the deepest on the Internet, with many artists listed here. We're adding new paintings and prints everyday, after that you may want to move onto our original paintings area which will give you an idea of the depth of the art we carry. It's exciting to be a part of an offering which brings people such a sense of satisfaction and joy. The colors, the depth, the natural settings, all of this makes this art we care about so special. We have many personal relationships with many of these artists that we exhibit and sell, and they trust us to portray their art in a correct manner. Those relationships give us the advantage of getting you some of the best new art first, so you can add to your collection before what you want is gone.
Call us if you have any questions about anything you see on our web site or need to know more about Paul Henning hockey prints. We're happy to answer your questions personally regarding availability or something special you're looking for.