Terry Doughty Art Prints
If you're one of those people who enjoy the lake or are an avid fisherman, we have Terry Doughty art prints for you. These are have all the colors and action of the sport of fishing or just the sheer enjoyment of looking at a natural wonder, fish! Like most people you probably can identify with wildlife you see in these special prints capturing a moment in time. We have these examples of wild fish art featured on our web site here and you'll see a wide selection to choose from. We have a couple of examples of this artist's fine work. The one to the left is "America's Favorite" and the one below is a framed version of "Right Place, Right Time Muskie". Each has a distinctive look and draws you into these places not often seen by even the outdoor enthusiast.
Terry Doughty is a self-taught artist who entered the wildlife art field 16 years ago after a hiatus from art for 18 years, finds his work an endless inspiration. Every once in a while, you put out a really spectacular piece where everything comes together. Terry lives his art. An avid fisherman and hunter, he does not separate the outdoor experience from his work. Instead, he continues the experience on canvas. "If I'm out fishing and catch a bluegill, I'll sit and hold the bluegill in my hand looking at the colors in it. If I see ducks coming in, I'll remember what color the water is, how the light hits the side of the hill. When I'm out hunting, I always have my camera with me. I'll see the trees when the sun is going down and the glow is coming off the trees and take a picture of it. When the photos come back, it's not just a group of trees, but I'm looking at something different-I'm looking at the light." Color and light are central to Doughty's award-winning paintings, but equally evident are the sense of proportion and naturalness with which he approaches his subject. He applies his concern for authenticity to his animal subjects as well. Experience as a taxidermist taught him attention to musculature and skeletal detail. He turns to references like full-mount deer manikins, the Milwaukee Public Museum, the Milwaukee County Zoo, a collection of zoological books and an accumulation of photos and sketches to ensure the accuracy of his subject's stance and movement. Along with his understanding of these great subjects, Terry has maintained a lifelong commitment to wildlife and preservation of their habitat.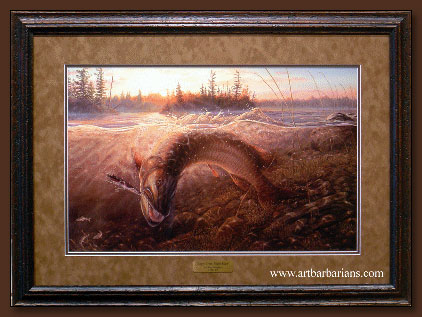 Along with this genre of paintings, you may want to browse our wildlife prints and you'll find that our selection of paintings is one of the deepest on the Internet, with many artists listed here. We're adding new paintings and prints everyday, after that you may want to move onto our original paintings area which will give you an idea of the depth of the art we carry. It's exciting to be a part of an offering which brings people such a sense of satisfaction and joy. The colors, the depth, the natural settings, all of this makes this art we care about so special. We have many personal relationships with many of these artists that we exhibit and sell, and they trust us to portray their art in a correct manner. Those relationships give us the advantage of getting you some of the best new art first, so you can add to your collection before what you want is gone.
Call us if you have any questions about anything you see on our web site or need to know more about Terry Doughty art prints. We're happy to answer your questions personally regarding availability or something special you're looking for.