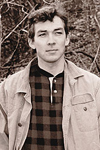 Born in 1964, James Hautman grew up in an artistic family surrounded by nature. His Mother, two of his brothers and a sister are also artists. Jim burst onto the wildlife art scene in 1989, when at age 25, he became the youngest ever winner of the prestigious Federal Duck Stamp Contest. He has gone on to win the 1995, 1999, 2011 and 2017 Federal Duck Stamp contests. In addition to his five Federal Duck Stamp wins, he has painted more than 30 state conservation stamp designs, including 5 for the state of Minnesota, and the 1990 Australian duck stamp. He specializes in North American wildlife, especially animals and birds from his native Minnesota.
In 1991 he was named Ducks Unlimited International Artist of the Year and won the award again in 2010 with his painting "First Light Canvasbacks." Pheasants Forever selected him as Artist of the Year for the years 1993, 2004, 2008, 2010, 2014 and 2017. In 2002 he was commissioned by the United Nations to paint a series of birds for their endangered species stamp collection.
Jim's passion for art is matched by his passion for wildlife conservation. His artwork has helped raise more than 10 million dollars for wildlife and habitat conservation. Jim states, "I am fortunate to be able to make a living painting the things I love, and at the same time give back to the wildlife that inspires me."
Publications such as Smithsonian, Time Magazine, USA Today, The Wall Street Journal and The Minneapolis Star Tribune have featured articles on his work. Jim's art has been displayed in the Oval Office of the White House, the Smithsonian Institution, the Leigh Yawkey Woodson Art Museum, the United Nations, and in public and private collections throughout the world. Movie producers have featured his artwork in Fargo and The Million Dollar Duck.
Wildlife artist Jim Hautman lives and works on the north edge of the Minnesota River Valley with his wife Dorothy, two rescued cats and an abundance of wildlife.
&nbsp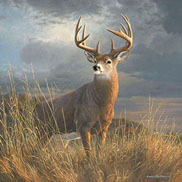 New - Autumn Air - Whitetail Deer Original Painting By Jim Hautman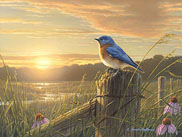 New - Bluebird Sunrise By Jim Hautman